Hi,
I have found an interesting bug. Let's see Spy Report
sr-no-106-e106e70ba506c3b169e3b31528948d37b43a8de5
Research

Espionage Technology 1

Computer Technology 3

Weapons Technology 2

Armour Technology 3

Energy Technology 2

Combustion Drive 4

Impulse Drive 3

Laser Technology 4

Astrophysics 3
Can someone expain how it is possible to have Astophysics with Espionage Technlogy only on 1st lvl?
Normally we need 4th lvl.
When Staff is active we get 3 lvls more to spying, but it shouldn't be used to unlock other research.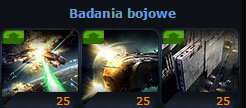 The post was edited 1 time, last by chemikos ().